Hrrmpp.. when was the last time you watch a movie that wasn't based on a book? In recent times, there are many of them. The recent ones that I can recall are Bridget Jones' Diary, Cat in the Hat, Bourne Supremacy, Harry Potter series, Ella Enchanted (I hated the movie), Polar Express, The Notebook, Troy…etc etc. And there's so many more coming up; A Series of Unfortunate Events (not too thrilled by it),
Memoirs of a Geisha
(currently in post-production but I'm looking forward to it),
Charlie and the Chocolate Factory
(starring the ever cool Johnny Depp) and even best-selling Da Vinci Code (why can't they have Hugh Jackman instead of Tom Hanks?). I even heard that the movie rights of
Perfume
had been sold (
Josh Harnett was interested in being the lead
). Often, these books are so good exciting and it's difficult for fans of the book to thoroughly enjoy the movie knowing that there was so much more the book can offer. A couple of big disappointments that I can recall were The Horse Whisperer and Bridges of Madison County, rest were ok or fairly bearable. I'm such a big fan for snappy love stories but in books, you can be totally immersed in the protagonist's emotions that you find yourself becoming them rather than being emotionally detached in the movie. It doesn't help that the lead men were people who are old enough to be my grandfather.
There's always the fear that the movies would be a big disappointment. After catching Harry Potter and the Chamber of Secrets on cable over the Chinese New Year and the horrendous mechanical rooster thingy that they tried to make us believe was Fawkes the phoenix, I fear for the effects for the upcoming Harry Potter and the Goblet of Fire. How convincing do you think that the dragons and mermaids that Harry has to meet in during the Triwizard Tournament will be?
However, despite of all these apprehension on book based movies, there was a movie that I had been eagerly waiting to be shown on the big screen. I must admit that before I watched the movie, I haven't read the book,
Howl's Moving Castle
, though I was familiar with some of Dianne Wayne Jones other works from the Chrestomanci series such as Witch Week, Charmed Life and the Lives of Christopher Chant. It is very typical of her to base the setting of story in an old English type of town, with doors opening into other realms or dimensions. The main reason for my enthusiasm was that the movie was made by Studio Ghibli, directed by the masterful Hayao Miyazaki. I have been a huge fan of Hayao Miyazaki anime since almost 10 years ago when I first caught My Friend, Totoro and loved his Spirited Away (as one fan puts it, every time he watches it, he gets spirited away!).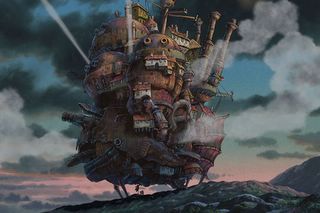 Howl's Moving Castle
Howl's Moving Castle, which's better? The book or movie??? The verdict? Movie!!! It is rare that I'm overwhelmed by a book based movie but I thoroughly enjoy the movie and can't wait to own it on DVD so that I can watch and re-watch again.
I'd try not to give away the plot too much. But just in case, I give the plot away, you have been warned! Spoilers ahead!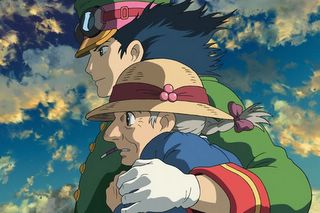 The movie adaptation takes the plot of the story from the book but adds on so much more layers. Sophie, a plain girl was destined to lead an uninteresting life as a hatter when the Witch of the Waste stormed into her shop and turns her into a 90 year old woman. In order to break her spell, she went to look for Howl the (neighborhood) magician. During her stay in the castle, she discovers just how magical his castle is. A door that opens to 4 different places, a talking fire demon that has a contract with Howl that must be broken by Sophie before her own spell can be broken. At the same time, Sophie is haunted/stalked by a enchanted/magical scarecrow.
What makes it so great is that Miyazaki is able to weave his own magic into the story and makes it his own that is so familiar yet refreshing to his fans. It is not very often that Miyazaki deals with grown-up in his movies and a love story to boot, but he does it very well in Howl's. Some of the themes that were explored in this movie are greed, beauty, loyalty, war, trust in one's ability. These themes, I would say, weren't explored as much in the book. At the same time, I feel that some aspect of the book was confusing until the very last chapter. Questions such as why did the Witch of the Waste look for Sophie, why was the scarecrow stalking Sophie, what was so special about Sophie. The adaptation eliminated some characters as well as some of the more confusing parts of the story and offers a simpler explanation without losing the plot or essence of the story. However, it wasn't that clear in the movie why Howl got into a contract with Calcifer in the first place.
Overall, Howl's Moving Castle is up there on my best loved movie list including Spirited Away and My Friend Totoro. And yes, I'm so smitten with Howl.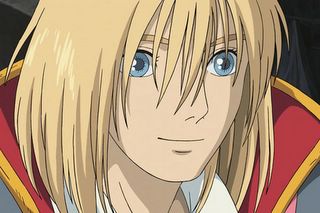 Voiced by one of my favorite actor/singer, Kimura Takuya, I just can't get enough of that cutie.
More, more, and more please!!! I can't wait to visit
Ghibli museum
in Japan…